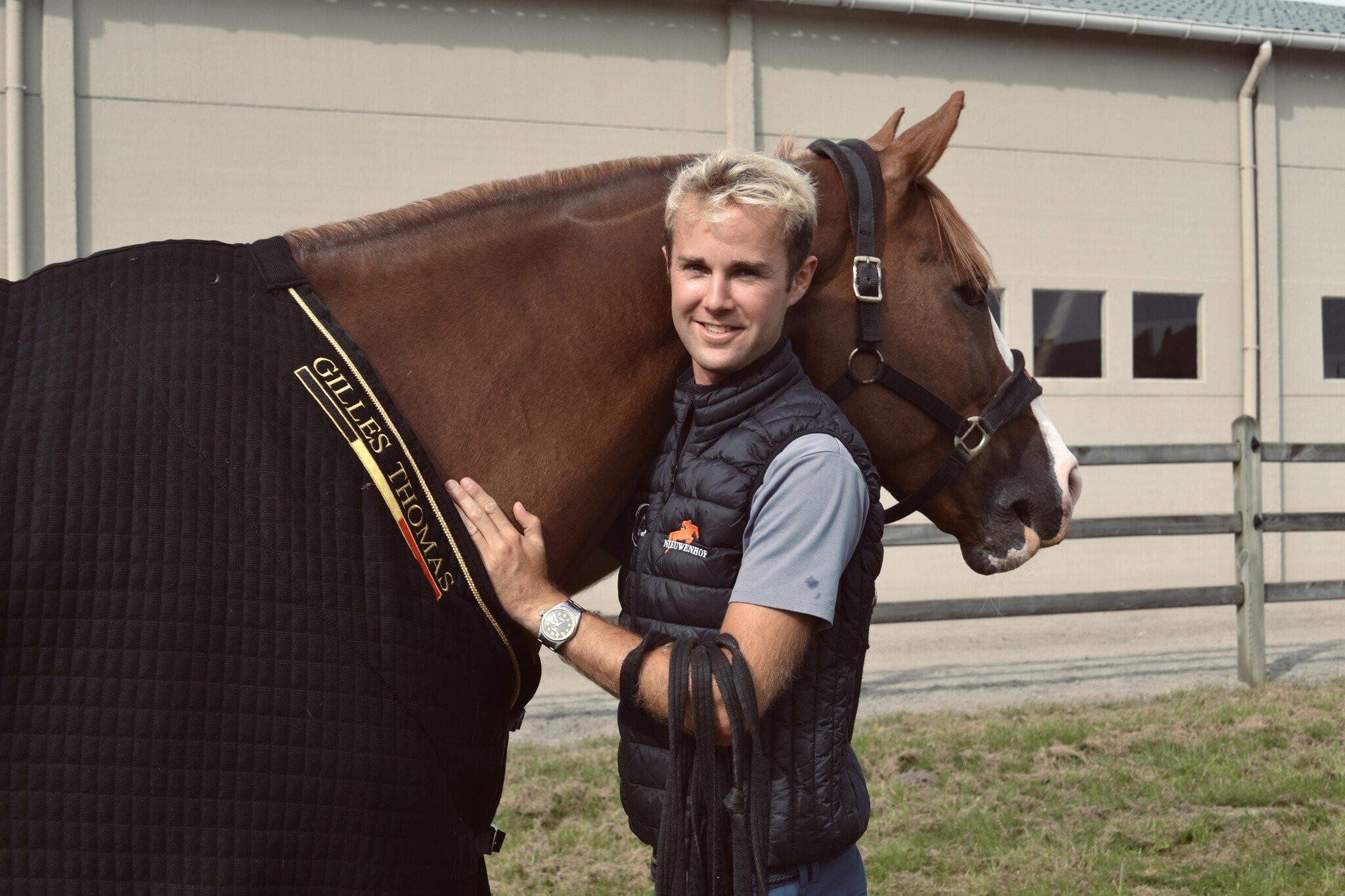 Gilles Thomas & Ermitage Kalone: Belgian Champion 2023
Greenfield visited Gilles Thomas to congratulate him on his victory in the Belgian Championship. We had an interesting conversation about the preparations, their experience during the championship, and the days after the competition. Read the full conversation here:
Hey Gilles, with whom are we here?
This is the stable of Ermitage Kalone.
Is he a special horse for you?
Yes, he has always been special, but now that I have become the Belgian champion with Ermitage, he is certainly special. It makes him even more extraordinary.
Did you work towards the Belgian Championship in a special way?
Ermitage is still quite young, so I tried to build him up as best as possible for the Belgian Championship. He was used as a stud during the summer, but he has so much talent that he doesn't need as much preparation as other horses.
Did you go to the Championship with a good feeling? Did you expect to win?
Our preparation might not have been perfect because he had to serve many mares in breeding, but we know what a good horse he is. We also felt from the outside that everyone wanted Ermitage to perform as well as possible. I did feel that I had a lot of supporters that week.
Did you feel nervous each time you entered the arena? How did you handle the pressure?
Naturally, there was some pressure, but I think when you can ride such a talented horse, you don't have to worry much. He showed his form right from the start. I knew that if I stayed calm and didn't make any rider errors, he wouldn't make any either.
What was your feeling when approaching the Zangersheide oxer in the last turn? Did you feel extra tension? Or was it the same feeling as throughout the entire course?
I knew I had more than a one-fault lead over the second-place rider, so I could afford to make a mistake. Until the last line, we were doing well, so I took my time there to ensure we could finish flawlessly. Especially when you jump the last fence, upon landing, you know, and it's truly a burst of joy.
Did you believe it immediately yourself? Or did you think, 'Is this really happening? Did I win?'?
I was already in the lead even before the final round, and no one else had to go after me, so I knew that if I rode that round without faults, I would win for sure. That makes it even more beautiful that I knew right away I became the champion! Sometimes you have to wait the whole course to be sure you're going home with the victory. The biggest relief usually comes immediately at the finish, and especially now, knowing that we had won, it was very beautiful.
What did you and Ermitage do in the days after the Championship?
There wasn't much planned after the championship, but because he had jumped so well, I was called to go to Barcelona for the Nations Cup final. The coach wanted to see him there, possibly with an eye on next year's championships. Ermitage performed exceptionally well there too, jumping faultlessly for two more days.
Did you stay there to continue supporting your teammates, the Belgians?
Yes, that's correct! On Sunday, I also explored the course, and in the paddock, I assisted everyone where I could. Team competitions are truly about teamwork. It's great when you can create that sense of unity.
As 2023 is gradually coming to an end, do you have any specific goals for this year?
Ermitage will participate in fewer competitions in the upcoming month. We do want to shine together at Jumping Mechelen. We haven't decided yet which event we will compete in. He will definitely jump in several classes. So, now it's a period of rest, and afterward, everything will be geared towards Mechelen.
So, if people want to see you both in action again, Mechelen is the place to be?
Yes, indeed, Ermitage will certainly be there in Mechelen.
Fantastic! Then we wish you a lot of success!
Thank you!